Special tank structure to stop oil leaks enable users to take it everywhere. 35RH pumps (Maximum Operating Pressure:70Mpa & the lightest) exports have grown in recent years, especially to America, Asia and Europe.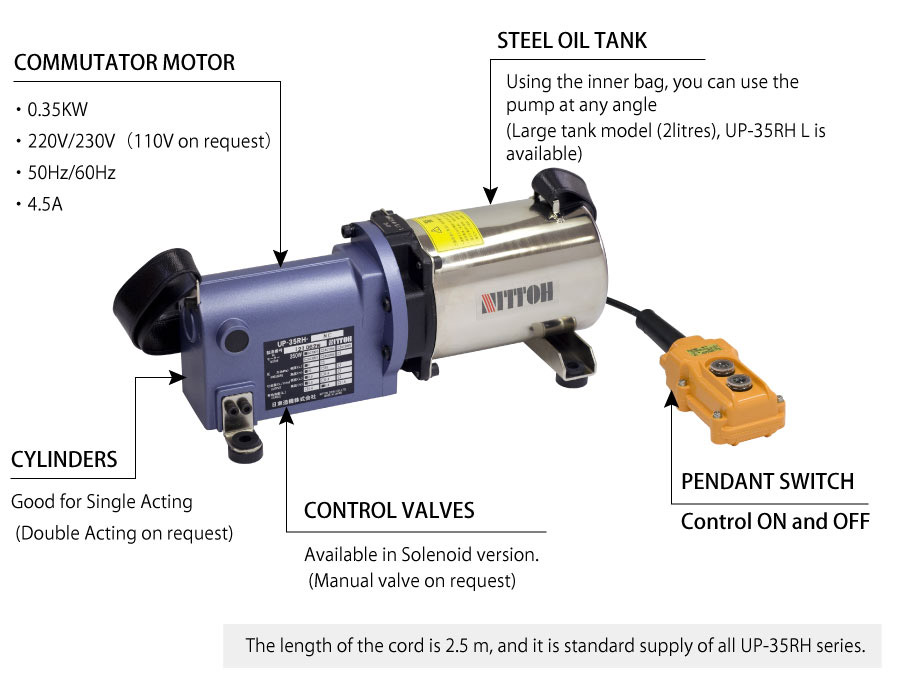 Model
Electric Motor
Mortor kW (2,000rpm)
Voltage(AC) 50Hz/60Hz
Amps
Output Flow Rate(Lpm)
Oil Volume (litres)
1Mpa(10Bar)
70Mpa(700Bar)
Tank
Effective
UP-35RH Series
Commutator, Single phase
0.35
220/230
4.5
2.0
0.2
1.0
0.8
100/110
9.0
UP-35RHL
(Large Tank)
220/230
4.5
2.0
1.6
100/110
9.0
More details

You can combine UP-35RH pumps with multiple hydraulic tools on various occasions.
Large automakers such as TOYOTA, HONDA, ISUZU use our UP-35RH pumps as hydraulic power source for jacking up, wire cutting, pressing steel and so on at their factory.
Our pumps are widely used for replacement and pulling old water pipes at house, apartment, office and factory.
Sesami oil / Cammellia oil manufacturers also use hydraulic oil press to expel oil, which is conventional method.
In Denmark, our products are chosen as hydraulic power source for changing the wind power propellers.